Team4Tech Impact Strategy
Team4Tech is a nonprofit impact accelerator, bridging the digital equity gap in education. We do so by building on our decade of experience as a trusted partner to social innovators serving the world's most under-resourced communities.
Team4Tech's mission is to improve the quality of education for under-resourced learners by building nonprofit capacity through technology solutions and training. Our ultimate goal is to create inclusion and opportunities for millions of learners across the world aligned to UN SDG 4.4.
Since 2013, our expert team and thousands of skilled volunteers have supported nonprofit organizations with technology grants and capacity-building training to improve education and economic opportunities for hundreds of thousands of under-resourced learners around the world.
Our Impact: Empowering Learners with Skills for Economic Opportunity
By 2030, 90% of jobs worldwide will have a digital component but forecasts show that nearly 1 billion youth will not have the skills needed to access quality employment. Investing in both technology-assisted learning and teacher training programs is a powerful equalizer in promoting access to opportunity.
To bridge the global education divide, Team4Tech builds capacity for community-based nonprofit organizations around the world through pro bono technology consulting and grants, so that they can amplify their impact on teaching and learning.
"The magnitude of Team4Tech's investment in S.O.U.L. is incredible and tough to put in words! The importance of good technology to run efficient programs is often overlooked and this unique funding approach is the most impactful. S.O.U.L. has more than doubled the number of students we can teach in our ICT lab and is also able to deliver so much more to our community with the installation of a solar set-up. After the funding from Team4Tech, our computer lab and office is now 100% solar-powered, and we are able to conduct our lessons without worries of power black outs."

S.O.U.L. Foundation
Uganda
Our success stories demonstrate the power of accelerating the impact of our nonprofit partners.
Integrating technology to improve learning outcomes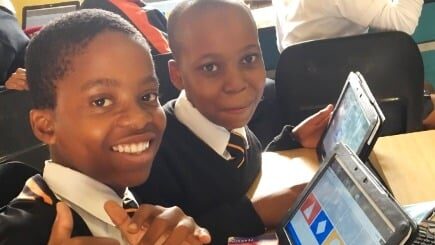 LEAP Science and Math Schools, South Africa
LEAP Science and Maths Schools provide a high-quality education to historically under-resourced black students in the townships of South Africa. With Team4Tech's foundation of technology and teacher training support since 2014, despite school closures due to the pandemic, students were able to keep learning via smartphones and 83% passed the national exam for university admissions (vs the national average of 36%).
Learning Links Foundation, India
Learning Links Foundation (LLF) is committed to enabling equal opportunity for all learners. With Team4Tech's funding, LLF purchased tablets for its Tab Abhyas and Road to School programs, reaching students in some of the most marginalized and remote communities. Volunteers digitized LLF's math and literacy curriculum for students to practice from their tablets. As a result there is increased engagement, with attendance rising by 60%, and assessments show a 15% improvement in student learning outcomes. LLF has plans to reach 20,000 more students.
Empowering women and girls
Women in Technology Uganda
Team4Tech helped Women in Technology Uganda to establish a makerspace and develop training in digital design and coding as well as entrepreneurship. Women in the program are now starting businesses and getting internships at technology companies such as Cadence Design Systems.
Gashora Girls Academy of Science and Technology, Rwanda
Since 2017, Team4Tech has partnered with Gashora Girls Academy of Science and Technology, a STEM focused secondary school in Rwanda that serves a socioeconomically diverse population of girls. With technology and training from Team4Tech, Gashora has built out a ICT lab and maker space to increase student engagement and skills in STEM. Team4Tech has also provided training to Gashora's teachers to build their technology skills as well as training teachers across Rwanda in ICT skills to increase regional capacity.
Scaling nonprofit impact with technology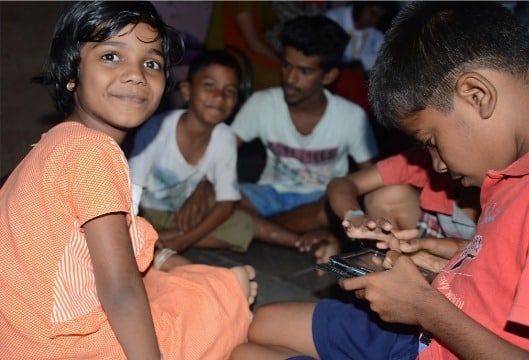 Dost Education, India
Dost Education provides low-income, low-literacy parents in India with early childhood education resources via audiocast. Team4Tech's support has enabled Dost to engage new strategies to reach more families and better track their data as they continue to scale. As a result, they've partnered with UNICEF India and 4 State Governments to reach 200,000 families with their early learning resources.
Worldreader, Kenya
Worldreader supports more than 12,000 learners in Kenya with their Keep Children Reading project. Team4Tech helped create training materials for a data collection platform to strengthen teacher training and help them more effectively use digital reading and resources with their learners.
Building teacher capacity
Flying Kites, Kenya
Flying Kites is working to transform schools in rural Kenya by building teacher capacity. With Team4Tech's funding, Flying Kites installed an on-campus internet tower for improved access at the Flying Kites Academy and their Teacher Training Center. Team4Tech volunteers supported the launch of their Technology Inclusion program to enable teachers to engage students with online learning resources and use data to better track students' learning progress. Teachers in the pilot program have increased their use of technology in the classroom by 150% and plan to reach 18,000 students by 2027.
Cambodian Children's Fund
Cambodian Children's Fund provides education for students who live on the site of a former garbage dump. Team4Tech provided staff and teachers with training and mentorship on Adobe Creative Cloud to support certification. Two educators are the first two teachers in Cambodia to pass the certification exam.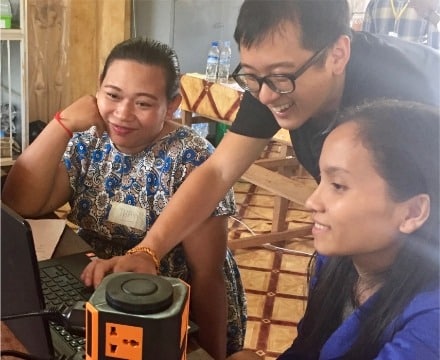 Empowering youth with skills for economic success
Nairobits Trust, Kenya
Nairobits supports youth in Kenya with ICT skills training as a pathway to better jobs and economic opportunities. With Team4Tech's support to help Nairobits develop a 5-year strategic plan to build an online training system that will help more than 1,000 learners gain market-relevant digital skills.
BUILD, USA
BUILD is a US based entrepreneurship program that teaches under-resourced youth how to build their own businesses. Team4Tech helped BUILD develop an online marketplace to create a bigger market for students' products and enabling youth entrepreneurs to earn more than $8,000 in revenue.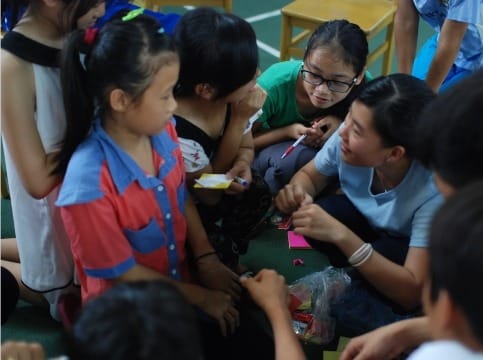 Kidspire Vietnam
Kidspire works to improve opportunities for children in government orphanages in Vietnam through after-school technology and leadership programs. Since 2014, Team4Tech has helped Kidspire build capacity through technology grants and workshops. As a result, Kidspire students are now staying in school longer, attending university and getting better jobs.
Explore our nonprofit partners
[ click on a country to read about our work in that country. ]