2021 IMPACT REPORT
Empowering learners with skills for economic opportunity
By 2030, 90% of jobs worldwide will have a digital component but forecasts show that nearly 1 billion youth will not have the skills needed to access quality employment. Investing in both technology-assisted learning and teacher training programs is a powerful equalizer in promoting access to opportunity.
To bridge the global education divide, Team4Tech builds capacity for community-based nonprofit organizations (NPOs) around the world through pro bono technology consulting and grants, so that they can amplify their impact on teaching and learning.
Meeting the moment with resilience, empathy, and innovation
In 2020, school closures due to the global pandemic affected 1.5B students. Read about how Team4Tech's support enabled our nonprofit partners to meet these challenges, empower learners with skills for economic opportunity, and scale their impact.
Integrating technology and STEM into curriculum
LEAP – South Africa
LEAP Science and Maths Schools provide a high-quality education to historically under-resourced black students in the townships of South Africa. With Team4Tech's foundation of technology and teacher training support since 2014, despite school closures due to the pandemic, students were able to keep learning via smartphones and 83% passed the national exam for university admissions (vs the national average of 36%).
Learning Links Foundation – India
Team4Tech transformed Learning Links Foundation's Student & Teacher Empowerment Program into a digital MOOC format. They have enhanced the platform metrics to reach more rural partners schools.
Empowering women and girls
Women in Technology Uganda
Team4Tech helped Women in Technology Uganda to establish a makerspace and develop training in digital design and coding as well as entrepreneurship. Women in the program are now starting businesses and getting internships at technology companies such as Cadence Design Systems.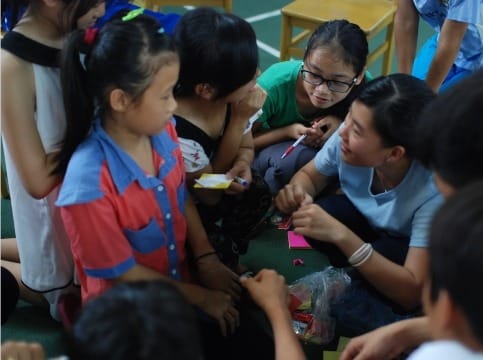 Kidspire Vietnam
Kidspire Vietnam works with students from orphanages to empower them with digital literacy and coding skills. Team4Tech volunteers mentored a team of girls who built the "Borrow Book" app to increase literacy in the community. The girls were finalists in the Global Technovation Challenge with over 1,700 teams from 60 countries participating.
Scaling nonprofit impact through tech
Worldreader – Kenya
Worldreader supports more than 12,000 learners in Kenya with their Keep Children Reading project. Team4Tech helped create training materials for a data collection platform to strengthen teacher training and help them more effectively use digital reading and resources with their learners.
Dost Education – India
Dost Education provides low-income, low-literacy parents in India with early childhood education resources via audiocast. With Team4Tech's support, Dost has discovered new strategies to reach more families. As a result, they've partnered with UNICEF India and 4 State Governments to reach 40,000 families with their early learning resources. The analytics management system has allowed them to better track data as they scale their efforts to more families.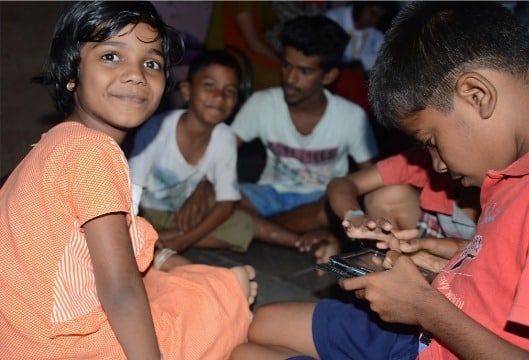 Building teacher capacity
Cambodian Children's Fund
Cambodian Children's Fund provides education for students who live on the site of a former garbage dump. Team4Tech provided 26 staff and teachers with an advanced virtual mentorship on Adobe Creative Cloud to support certification. Two educators are the first two teachers in Cambodia to pass the certification exam.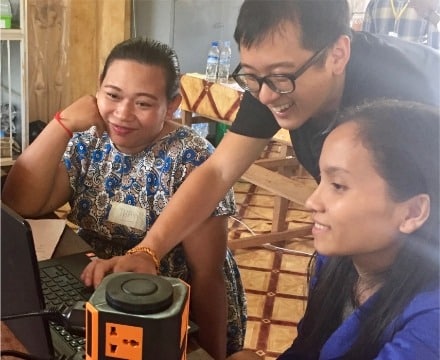 Flying Kites – Kenya
Flying Kites is working to transform schools in rural Kenya by building teacher capacity. Team4Tech supported the launch of their Technology Inclusion program to enable teachers to engage students with online learning resources and use data to better track students' learning progress.
Empowering youth with skills for economic success
Nairobits Trust – Kenya
Nairobits supports youth in Kenya with ICT skills training as a pathway to better jobs and economic opportunities. With Team4Tech's support to help Nairobits develop a 5-year strategic plan to build an online training system that will help more than 1,000 learners gain market-relevant digital skills.
BUILD – USA
BUILD is a US based entrepreneurship program that teaches under-resourced youth how to build their own businesses. Team4Tech helped BUILD develop an online marketplace to create a bigger market for students' products and enabling young entrepreneurs to earn more than $8,000 in revenue.
"Digital skills are increasingly important, in fact, critical for learners around the world to join the global workforce. I joined Team4Tech's Board because I believe that the model Team4Tech deploys can have a powerful impact on learners; specifically by combining high-quality interactions between education nonprofits and corporate volunteers leading to meaningful skills. I'm proud that during Covid-19 we were able to expand our model and reach digitally without losing impact for learners in need of technology and training."
John Solomon, VP and GM ChromeOS at Google
A message from Team4Tech's co-founders
When Team4Tech launched in 2013, we set a 10-year goal to improve the quality of education for 100,000 under-resourced learners around the world through technology solutions and training. In 2021, we surpassed our goal—two years early—by reaching more than 110,000 learners in 21 countries with opportunities to gain skills for a better future. We did this by delivering more than $15M in technology grants and services to 50+ nonprofit education partners, enabling them to become lighthouses in their regions and in turn build local and regional educational capacity.
As we celebrate this milestone, we recognize that the challenges faced by educators around the world have increased dramatically. Over the last 2 years, 1.6B students have been impacted by COVID school closures. In parallel, Team4Tech experienced a 10x increase in demand from educators and nonprofits needing support to help students learn remotely. We quickly mobilized our global community of corporate volunteers to consult virtually on digital solutions, create digital curriculum resources, and provide online training for teachers and students. We also launched a regional hub in Sub-Saharan Africa to provide more local support.
We are grateful to our donors who fund our technology grants and our corporate partners who support our nonprofit capacity-building with sponsorship and corporate volunteers. We couldn't do it without you.
We are grateful for our donors who fund our technology grants and our corporate volunteers who use their skills to provide technology training and implementation support for our nonprofits as this impact would not have been possible without your support.
Julie Clugage
Co-Founder and
Executive Director
Lila Ibrahim
Co-Founder and
Chair of the Board
FINANCIALS
Functional Expenses
$1,289,172
Total Revenue
$1,799,162
View our US entity IRS Form 990 data for the following years: